Mike & Becky Peacock have been telling stories for years. They met many years ago as actors and founded Rhema Theatre Company in 2001. Since then they have written, produced & performed in hundreds of theatre productions, thousands of schools and entertained countless numbers of children & adults. They've also delved into the world of film-making and been nominated for a number of awards.With 'Tales From The Miracle Book' they are delighted to bring together the best of the material they have created over the past two decades into a new vibrant format for a new generation.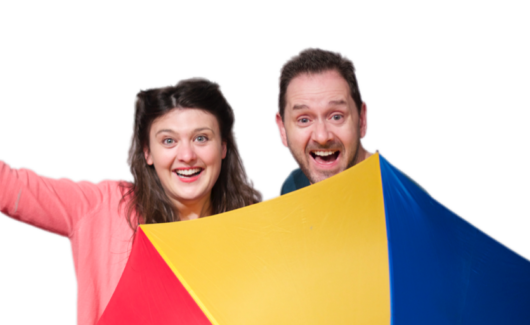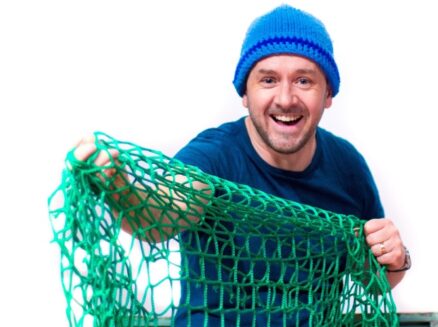 Mike was born and bred in Manchester, training at the Arden School of Theatre. After graduating, he spent the following few years working for the Royal Exchange Theatre Company, Riding Lights Theatre Company, Manchester Actors Company & Friargate Theatre, York. In 2001 he co-founded Rhema Theatre Company, which has since toured all over the UK – performing in schools, communities and occasionally theatres! As a writer, Michael has created over 40 different theatre productions of all shapes & sizes for Rhema Theatre Company. He is author of the HeartSmart book 'Boris the Robot' and his book 'Angel's Delight- a Christmas novel for KS2 pupils- will be out for Christmas 2020. He has had work published for Riding Lights Theatre Company, written for the 24:7 Theatre Festival and also worked with Soho Theatre Company. He was finalist in the BBC CBeebies 'Get Squiggling' competition and recently won the M6 theatre competition 'Love in the time of Corona' for his play 'When we started Singing'. A production of this play will be brought to life Autumn 2020 by M6 theatre. Mike's scripts have been performed on various different radio stations and a number of television channels both in the UK and abroad. They have also been used in Uganda, Kenya & Tanzania by the charity Act4Africa. As a theatre practitioner and workshop leader, Michael has worked as far afield as Bosnia, Uganda, Slovenia and most recently, Iraq. Mike has also written & directed several short films. His films 'The Date' and "Alicija' were nominated for awards from The ModCom film festival, Kino Film Festival, Buxton Film Festival and Short Of The Month.
Rebecca grew up in Gloucestershire within a family of musicians and trained as a viola player at the Junior Guildhall School of Music and Drama and Wells Cathedral School and as an actor and singer at the National Youth Music Theatre (Edinburgh festival, West Yorkshire Playhouse, Sadlers Wells, Royal Albert Hall). She went on to study performing arts at Middlesex University. Acting credits include Haymarket Theatre, Basingstoke, UK tours with Riding Lights Theatre Company, The Royal Exchange Theatre Company and Manchester Actors Company. As a musician/actor she has toured as far afield as Argentina, Italy , Belgium, Slovenia and Hong-Kong. She has also used drama whilst teaching in Pakistan!Becky plays the violin, viola, piano, recorders, wooden flute, saxophone and anything that makes a noise! She teaches music in many Trafford Primary Schools and has composed most of the music for Rhema shows to date. She co-produced Mike's short films 'The Date' and 'Alicija' & 'Into The Dark'. As well as making the occasional appearance in front of the camera for 'Tales From The Miracle Book' films she has been found behind the camera- for the Miracles and Parables series during Lockdown! Becky has sourced all the 'Tales From the Miracle Book' backgrounds, music and sound effects- taking the films from GreenScreen to full colour! She has been married to Mike for 20 years and they are parents to Sophie and Ruby.